This is a story, about Nurse Joy as you might tell. Now you're probably thinking, "OMGZ HES GONNAS GETZ A HACKED GAMES!!!"... No. It's actually a secret kept by Nurse Joy that I figured out.
Everytime you go the Pokemon Center, you think she heals your Pokemon. But, instead of doing what you think... she instead puts your Pokemon in a basket under her desk, and replaces your pokemon with new ones.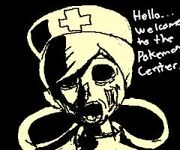 She then takes your Pokemon and kills them. She thinks this saves her effort and work.
The only thing, is she's so nice, you don't notice how quick she changes out the Pokemon. There's no way to ever stop this. If you mention it to her, she will do to you what her other secret was. Turn you into another Nurse Joy, and you will do the same thing she does.
Never use the Pokemon Center again. Always use potions and etc. But becareful with that aswell. There may be a secret with the PokeMart as well... you never know.
_______________________________________________________________________________________
SORRY THIS WAS SO SHORT, IT REALLY WASN'T A GOOD CREEPYPASTA. - PastaIsCreepy