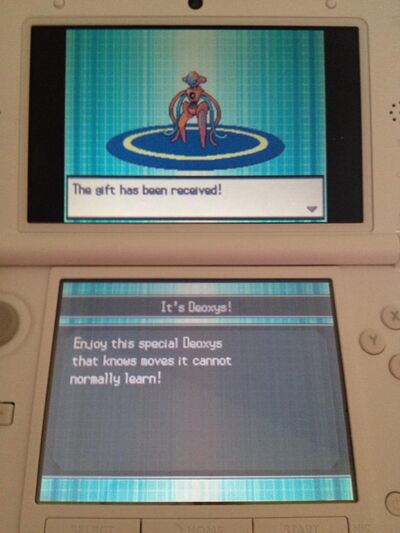 This is not a cheat, not even close.
I just wanted to remind everyone that now through May 31st, 2013 // The Pokemon Company and Nintendo are giving away a lv.100 Deoxy for those with Pokemon Black V2 and Pokemon White V2.
Again, this only lasts for the month of May and it is only via the wifi connection and those who live in the United States and Canada (which is totally unfair because it is just one more event that I am going to miss). Still, I thought I would post this up so that the Pokemon-gaming fans on here do not forget.
See? I'm such a nice person!
But, if you're interested in this event, then please visit the official Pokemon Website for more details on how to get this lv.100 Deoxys, and remember that this Deoxys comes with moves it can normally not learn in any other version. This event will only take place one time and one time only---so catch this super sweet deal while you can.
Ad blocker interference detected!
Wikia is a free-to-use site that makes money from advertising. We have a modified experience for viewers using ad blockers

Wikia is not accessible if you've made further modifications. Remove the custom ad blocker rule(s) and the page will load as expected.