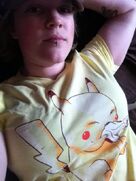 Sorry for the shitty quality on the first photo but yeah...nothing to report today, just wanted to show you guys what I got in the mail today!!! It's a Pikachu blowing his nose if you couldn't figure it out.
But yeah...what all Pokemon gear do you own? Leave me a comment below and share your pictures!! :D
Ad blocker interference detected!
Wikia is a free-to-use site that makes money from advertising. We have a modified experience for viewers using ad blockers

Wikia is not accessible if you've made further modifications. Remove the custom ad blocker rule(s) and the page will load as expected.