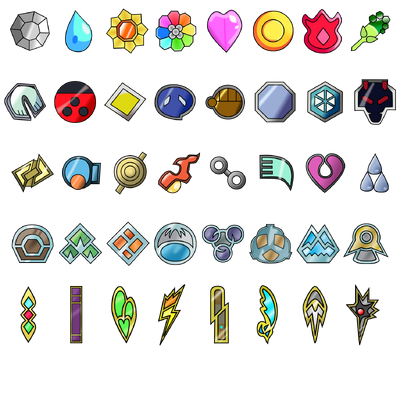 So...I had this idea the other day to start a Pokemon Gym on Facebook.
It's simple and will run off the Cartoon a little more because of the rules.
The Gyms will be based off of the Different Pokemon Versions.
Each Gym Leader can only fight using Pokemon from their Game Version.
No Legendaries allowed.
There will be more than 8 Gyms (obviously) but a person only needs 8 badges to go on to the Elite 4.
Gym Versions will be: Red, Blue, Gold, Silver, Ruby, Sapphire, Diamond, Pearl. (Black & white will be optional)
Elite 4 will be: Yellow, Crystal, Emerald, and Platinum.
First person to clear the E4 will become the first Champion.
After a Champion is crowned, people need 8 badges, beat the E4, and THEN beat the Champion in order to become the next Champion.
See? the structure of it is fairly simple...but the problem is finding people to become Gym Leaders. I need people that have access to Nintendo WFC and can battle over the web. I also need 12 people willing to participate in order to make this work. I would be a Leader myself if it werent for the fact that my wifi does not work.
Also, I need someone willing to design badges for me so that we can award the people who get through the Gym Challenges and etc. Either way, I thought this was a really nifty idea and wondered what other people thought? If you're interested in making this Facebook Page a reality, then please leave a comment below and lets get to work!!
Ad blocker interference detected!
Wikia is a free-to-use site that makes money from advertising. We have a modified experience for viewers using ad blockers

Wikia is not accessible if you've made further modifications. Remove the custom ad blocker rule(s) and the page will load as expected.