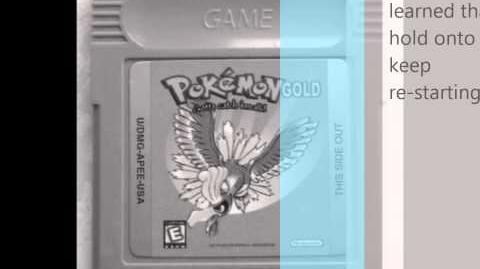 That strange Pokemon Gold Version that I bought was sooner-than-later determined that this was a BETA cartridge that had been released before the actual launch of the game.
I mean, while it could have been bootlegged too...there was much too much that went into the creation of this cartridge, and I'm not even sure who would have the resources to make such a thing. Granted, nowadays, game cartridges that have been modified are more easy to come by...but this was something totally different. Still, no matter what it is...I was never able to finish the actual game-play through this weird Gold Version because, the save battery is obviously out.
I had only been playing for a little over 20 minutes when I decided to save my game, and then turn off the SP so that I could go and grab some lunch.
So now...my question to you guys is this:
---Should I get a new battery for this game?
---Should I just hook up my SP and do a complete run-through the game without stopping to see if there are any abnormalities with this game and etc?
---Or should I just let it rest and assume it is just like a normal Gold Version with a really bad translation?
I look forward to seeing what everyone thinks on this matter. :D
Ad blocker interference detected!
Wikia is a free-to-use site that makes money from advertising. We have a modified experience for viewers using ad blockers

Wikia is not accessible if you've made further modifications. Remove the custom ad blocker rule(s) and the page will load as expected.