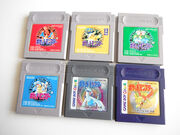 Taxes are a big pain in the ass, I will just let you know right now.
So...I never got big into eBay until I started on this site. With all the talk of people buying hacked games and etc from eBay, well, even though I know the majority of the stories are fake, I still like to do my research and really figure things out for myself (part of my "go get 'er" personality I suppose). Well, if you read back to my first couple of blogs about the strange Gold version, it was around my birthday, so I was trying to do some things to spoil myself. I bought the strange Gold Version (which is just a hacked cartridge of a leaked Alpha or Beta of Gold Version) and then I bought myself the original Japanese Green Version.
Well, a week or so later, I was searching the web with my Mother when we found another great deal--- it was 6 original Japanese Pokemon games (Red, Green, Blue, Yellow, Gold, and Silver) for $65 abd shipping was free. Well, I already had Green Version, but the others one I did not have. So...my Mother told me to buy it and she would put the money for it into my account. So I bought it, and now I month later, I finally have it....ONLY because, the German importing building held my package because it had not paid the correct amount of Taxes to be shipped to my flat. WTF?!
So yeah...30 euro for the taxi to get there and get back, 10 euro just to pick up the damn package, and over 30 minutes of frustration because they failed to mention they needed my printed receipt from eBay until I got there, and then we had to convince the boss that I was okay with others logging into my eBay account so I could take this package home. RAWR!!!
But the first picture are the 6 games I bought originally, and then the second picture is now my total collection of Pokemon games. I am looking forward to getting all the rest that I do not own and buying a display shelf to show them off. Care to share your colection with me?
Ah...the prices we pay to be a Pokepimp.
SPEAKING OF POKEPIMPS: I started a Facebook Group not too long ago called "Pokepimps 4 Life" and it is a group of adult gamers that still enjoy Pokemon Games. We have a Document with everyone's Friend Codes, we talk about X&Y Updates as well as other things that have to do with Nuzlocke Challenges, and even Fan-fictions, Pokemon, and the classic gaming.
So feel free to message me if you want the link to join. We could use more Members :)
Ad blocker interference detected!
Wikia is a free-to-use site that makes money from advertising. We have a modified experience for viewers using ad blockers

Wikia is not accessible if you've made further modifications. Remove the custom ad blocker rule(s) and the page will load as expected.