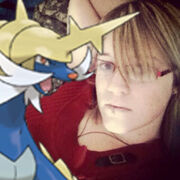 Sorry about my lack of 'appearances' here on the Pokepasta site. Generally I am here every single day, but there would seem that there is a lot going on in my personal life AND I am working on something really, REALLY big!!!
As far as personal stuff goes, I was told last month that I am getting evicted from my flat in August. This means I have been very busy trying to get my stuff together, find a new place to live, and etc etc etc. Also, I have been trying to take out a bank loan, trying to get my bicycle fixed, and trying to spend a lot of time with my girlfriend because she is leaving for vacation in California here within a week, and without here, I will be a wreck for sure.
BUT, on note of my new project...I have decided to try something new and work with video capture on my laptop. That's right, I am creating a new Persona for myself called: "Sam Utari" ---Sam being short for "Samurott" and 'Utari' is the name that I gave my Samurrot on my White Version.
This youtube persona will also be on Twitter, Facebook, and have her own freewebs. She will be doing Pokemon "lets plays", she will be reading Pokepastas from this very site (starting with the "Wrath of Titan" ;p ), she will be doing Pokemon surveys and doing Pokemon rants as well.
As a former radio-voice-talent I feel that this could be something that is very very exciting :)
Anyways, that's why you have not seen much of me on here. Because between working and then my personal life, trying to help run "Dex Holder Crystal" as an Admin, "Pokepimps" as the creator and then as the Leader of the RARE League on Facebook, this site seems to take the back burner at times---so for that, I apologize BUT, at least now you know.
I already started editing some Pokepastas again and will try to be back here full-time ASAP.
Ad blocker interference detected!
Wikia is a free-to-use site that makes money from advertising. We have a modified experience for viewers using ad blockers

Wikia is not accessible if you've made further modifications. Remove the custom ad blocker rule(s) and the page will load as expected.