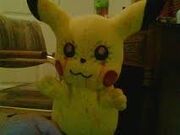 THIS IS ONLY A SAMPLE OF WHAT IS TO COME
---
Today was my birthday, and I loved pokemon. I got a Pikachu Doll, pokemon x, and more! The Pikachu doll was amazing. I loved it dear, I took it everywhere for about 6 years. One day my mom was going through my room and threw it out. I cried forever, until I walked into my house one day, and it was empty. All for except my Pikachu doll. I screamed when I found it! But then I picked it up and turned it around, and it had blood red colored paint on it, and it was holding a knife, I suddenly dropped this doll, and walked back. I looked away and back, and noticed my hands were red. I was holding the knife, and the pikachu doll was my mother. I laughed as a smile came over my face.
Ad blocker interference detected!
Wikia is a free-to-use site that makes money from advertising. We have a modified experience for viewers using ad blockers

Wikia is not accessible if you've made further modifications. Remove the custom ad blocker rule(s) and the page will load as expected.