by ForgottenBulba
The worst thing in the world is rejection... Why, you may ask. Well, it's what I face every day. I'm Jess and I'm gonna tell you about the pokemon Eevee and what it faces every day.
As you all know Eevee is the evolution pokemon, meaning that Eevee can evolve to 8 different pokemon: Flareon, Vaporeon, Leafeon, Espeon, Umbreon, Jolteon, Glaceon and Sylveon.
Don't get me wrong, they're great pokemon, but no one ever leaves their Eevee as Eevee. They have to go and change it.
Eevee must think... "WHY DOES EVERYONE WANT TO CHANGE ME!"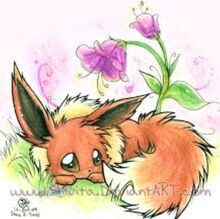 Ad blocker interference detected!
Wikia is a free-to-use site that makes money from advertising. We have a modified experience for viewers using ad blockers

Wikia is not accessible if you've made further modifications. Remove the custom ad blocker rule(s) and the page will load as expected.